Ocean Cellar - Pan Seared Norwegian Salmon
Posted on Tue July 23, 2019.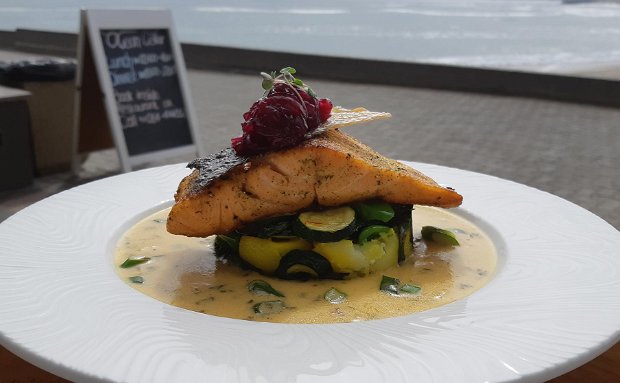 Ingredients
200g Norwegian Fresh Salmon (skin on)
80g New Potatoes
5g Saffron
Salt Fine (maldon sea salt)
Pepper black (preferred in grinder)
15g Green Asparagus
10g Green Pepper
20g Baby Marrow
10g Baby Spinach
15g Green Beans
5g Spring Onion
Red Onion marmalade (makes a jar so keep some for yourself, also great with chicken, blue cheese etc. (Tickle your taste buds)
36ml Canola Oil
18g Butter (unsalted)
240g Red Onion
50g White Sugar
200ml Red Wine
50ml Balsamic Vinegar
Salt and pepper to taste
Lemon Butter Sauce
50ml White Wine
50ml Cream
1 tbsp. Lemon Juice
1 Bay Leaf
5 Whole Black Peppercorns
30g Unsalted Butter Cubes
Salt and pepper to taste
2g Chives
METHOD
Red Onion Marmalade - Heat olive oil and butter in a large skillet over medium heat; cook and stir onions and sugar in hot oil until onions start to caramelise, about 15 minutes. Stir red wine and balsamic vinegar into onion mixture and bring to a boil. Reduce heat to medium-low and simmer until liquid is evaporated, 15 to 20 minutes more. Season with salt and pepper.
Lemon butter sauce – bring to the boil the wine, cream, bay leaf and peppercorn and reduce by liquid half, then strain, finish off with the lemon juice, butter cubes and chives by adding to the liquid and bringing to the boil one more time until the butter has emulsified into the sauce, season to taste and ready to serve.
Saffron potatoes – Peel and half the new potatoes, place in a small sauce pan with cold water - about 1cm above the potatoes, add saffron and bring to the boil, allow the potatoes to just cook before removing them to cool down.
To complete – season the salmon and sear all sides in a very hot Teflon pan to give the salmon good colour, remove from the pan and let it stand on a small tray until you need it.
Blanch the green vegetables in salted boiling water for 30 seconds, remove from the water and then over medium heat sauté the green vegetables with the saffron potato until the green vegetables are still a bit al dente and the potatoes warmed through.
Plate up as you desire and enjoy this remarkable dish prepared for loved ones, Kings or Queens.