Brewer & Butcher – Schweinshaxe
Posted on Tue July 23, 2019.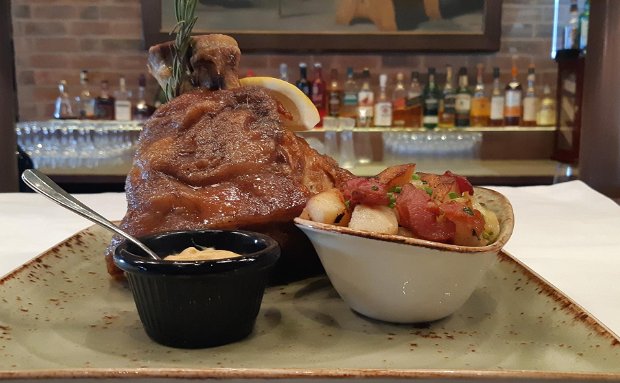 Ingredients
• Pork knuckle 1.2kg
• Salt fine x 5g
• Black pepper coarse x 5g
• Caraway seeds x 2g
• Oil canola x 30ml
Bratkartoffeln
• Potato large x 120g
• Bacon streaky x 25g
• Onion medium x 100g
• Garlic x 2g
• Salt fine x 2g
• Pepper ground x 2g
• Spice paprika x 1g
• Oil canola
Garnish: German mustard 45ml, rosemary sprig, lemon wedge (optional)
Method
• Pre – heat oven to 120 degrees C
• Score the pork knuckle with light strokes across the pork knuckle, diamond shape
• Oil the knuckle
• Mix the salt, pepper and caraway seeds and rub it onto the knuckle
• Place the knuckle on a baking tray and bake for 90 minutes
• After 90 min remove the knuckle and turn up the heat of the oven to 200 degrees C
• Place the pork knuckle back in the oven and cook further for another 90 min to crisp up the skin
Bratkartoffeln
• Peel the potato and cut into rough 1cm by 1cm cubes
• Put the potato into boiling salted water and par cook for 10 min, then remove it from the water and keep aside
• Fry the onions, Garlic and Bacon over a medium heat, till its starts to lightly brown then add the paprika and the potatoes and cook through
• Season to taste, ready to serve
• Optional to through in some chopped parsley
Add the Schweinshaxe & Bratkartoffeln to the plate, garnish with a bowl of mustard and rosemary on the pork knuckle. Ready to serve.
Bon Appetit