O&L Leisure Today - December 2018
Posted on Wed November 28, 2018.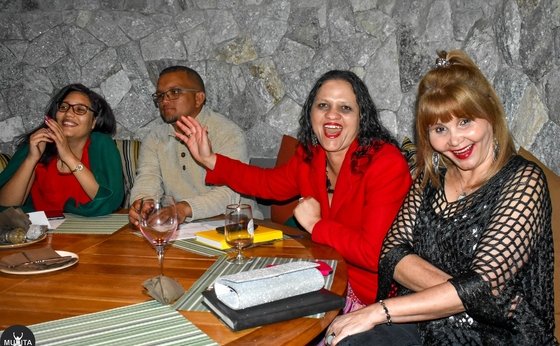 The Strand honors local talent
2018 was a year filled with new events at the Strand Hotel in Swakopmund. One of these are the, now regular, "Poetry evenings", held at the Brewer & Butcher.
Michelle, the charming guest relations manager, at the Strand Hotel identified a niche in the market. Swakopmund was ready to explore, experience and enjoy regular poetry and music events, which would highlight the talent of local authors and artists.
Not only did the locals flock to this event, but curious international tourists thoroughly enjoyed the talents that came forward on 24 November.
The attendees, which included 5 ticket winners and a whopping 21 performers, took part this time.
Michelle had an exciting line up of performers including 2 staff members - assistant restaurant manager  Rachelle and waiter Ronny from the Farmhouse Deli.
2 journalists performed poetry, as well as Adolf Kaure, who wrote the previous article in the Erongo paper and Clarice Theys, who is a freelancer for the Namibian with an article to follow.
The talented acapella group "Vocal Galore Organization" performed with some mesmerizing musical acts together with Frieda, who does poetry for the group. They usually perform in Swakopmund and donate their income to charity - how amazing?!
Lydia October, who travelled all the way from Windhoek, is a Radio production student at the college of the art. She is also a member of the spoken word in Windhoek.
Ishaaq & Tyron, a two man band who are very well-known in the market, traveled all the way from Walvis Bay.
Elsabe Van Wyk, who catered for the Afrikaans audience. She writes master pieces and was amazing!
The rest of the performers are those who performed at the first event.
It was a lovely evening, and The Strand Hotel (Brewer & Butcher) will be hosting the next show in February next year!